Here's a look at the actress' hits and misses at the international red carpet over the years…
The 68th Cannes Film Festival is on full swing. We already have Katrina Kaif rocking the red carpet and now we have Sonam Kapoor joining soon. This will be the fifth year the fashionista will dazzle the international red carpet. Over the years, the style diva has given us some mind blowing appearances with her bold and singular style statements. While there's no doubt that there is no one in B-Town who equals Sonam in the fashion department, the stylista has had her shares of misses too. Unbelievable but true! Here's a rundown of the fashionista's noteworthy appearances (good and bad) at Cannes over the years…
Cannes 2011
Wearing: Gowns by Jean Paul Gaultier, Roberto Cavalli and The Row and a saree by Masaba
My Take: The actress made her Cannes red carpet debut wearing a Jean Paul Gaultier gown which was an instant hit with the fashion pundits; I'm totally digging the mesh overlay and trail. The same year she also donned a golden shimmery Roberto Cavalli gown and a monochrome polka dotted Masaba saree. While all three looks of the actress were gorgeous, I was let down by her flowy white gown by The Row. For one, it was too plain Jane to be Sonam and for two, there was something seriously wrong with her makeup.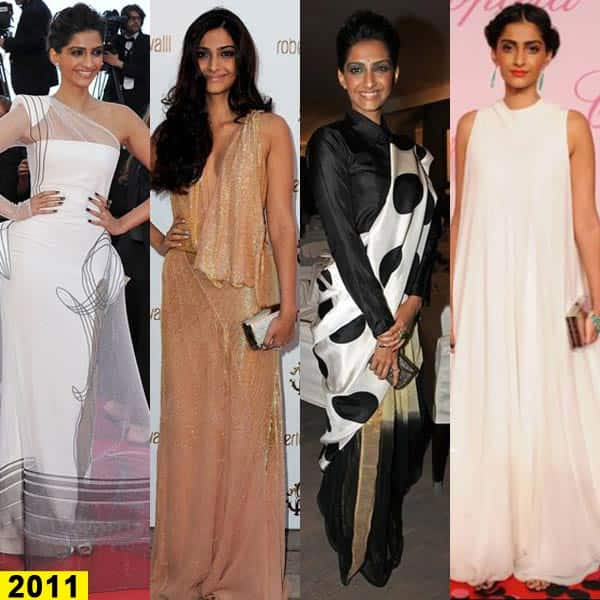 Cannes 2012
Wearing: Alexander McQueen gown, Naeem Khan gown and Dolce and Gabbana dress
My Take: Let's just say 2012 was not a great year for Ms Kapoor, fashion wise. She wore a black, gothic Alexander McQueen gown for the red carpet event. Though I appreciate the bold move, it's not something I'd like to see her in again. Prior to the red carpet, the actress put on a monochrome Naeem Khan gown, which again wasn't outright hideous but I thought Sonam could have done a lot better. Her best appearance this same year was in a deep red Dolce and Gabbana dress that she wore to The Winners' Dinner. The crown like hairstyle and that princess-cy cut of the one piece made for a fab combo.
Cannes 2013
Wearing: Anamika Khanna saree, Doce and Gabbana gown, Elie Saab dress and Shehla Khan lehenga
My Take: Sonam's first appearance of 2013 is by far my favourite. Sonam in the Anamika Khanna golden and white saree with a trailing jacket is a site you can never forget. And what made the look a super stunner was the Sunita Kapoor nathni. It was simply WOW! Kapoor chose a floral Dolce and Gabbana princess cut gown for day 2 and it was yet another 10 for the diva. I also loved her pink Elli Saab dress she wore to the opening dinner. It made her look nothing less than a Barbie. The only sore spotting this year was the Shehla Khan lehenga she wore to the Chopard part which didn't do justice to her frame or the Indian statement she was trying to go in for.
Cannes 2014
Wearing: 2 Elie Saab gowns and Anamika Khanna saree
My Take: Elli Saab, you rock! The actress donned two gowns by the label in 2014- a black princess cut and a powder blue pleated skirt with structured bodice one. And she totally owned the red carpet in both. But the highlight of the year was Sonam's saree-turned-western outfit by Anamika Khanna where the diva let her choker necklace from her mom, Sunita Kapoor's collection, do the talking.
With each passing year, Sonam's appearances have become bolder and from what I've heard, they are going to be more so this year as she's decided to go quirky. Well, I just can't wait to get a glimpse of Sonam rocking the fest yet again. What about you?