After the news broke that the famous DDLJ pair would join hands yet again after 5 years, I couldn't help but wonder how it would be if other evergreen pairs from  the 90′s rekindled their romance onscreen
It has been five years since dusky beauty Kajol mesmerised us with her powerhouse of talent on the big screen. It's been five years since Bollywood's most iconic pair SRK and Kajol shared screen together. So when Rohit Shetty pulled off this amazing casting coup of roping Shah Rukh and Kajol together for Dilwale, fans got super excited at the return of Bollywood's most romantic pair on big screen.
While King Khan and Kajol are about to reunite on silver screen this year, take a minute and imagine how it would feel if any of the other evergreen pairs of B-town joined hands to sizzle on big screen. While we all revel at the comeback  of Kajol with SRK, I bring you two such iconic pairs of Bollywood whose onscreen reunion will become the talk of the town:
Salman Khan-Madhuri Dixit
Right from the Sajjan days, Salman and Madhuri were considered to be a perfect onscreen jodi. This belief was strengthened manifolds when the duo rocked the big screen in Sooraj Barjatiya's most iconic film Hum Aapke Hain Kaun. Their chemistry had a flavour of naughtiness in it, which made them stand out from all the other B-town pairs. While SRK-Kajol are reuniting, I think filmmakers should also think of getting this fabulous jodi of Salman and Madhuri together. I bet fireworks will fly if these two are paired onscreen even now.
Aamir Khan-Juhi Chawla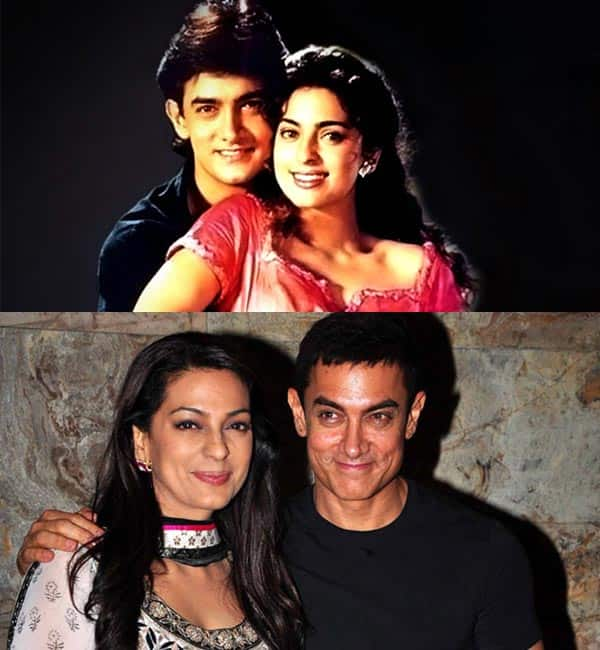 How an one forget the movie Qayamat Se Qayamat Tak, which gave the industry one of the most amazing onscreen pair in the form of Aamir Khan and Juhi Chawla. Both the actors made their debut with the tragic love story, and went on to write their name in history as one of the greatest pairs in Indian cinema. Their chemistry was considered to be one of the cutest as they made an impact on the audience with films like Hum Hain Rahi Pyaar Ke and Ishq to name a few. While Aamir is in top form tasting overwhelming success at box office, Juhi seldom appears on big screen these days. I feel it would be just wonderful if this jodi is given a chance to rekindle their onscreen romance yet again, much to the fancy of fans.
So which of these two iconic pairs should reunite onscreen? Vote!
Which of these two iconic pairs reunite onscreen?